Our Approach
Our oil changes feature Exxon Super Flo Oil and NAPA Gold Oil Filters.
We perform a general vehicle inspection during every oil change at no additional charge.
Items Checked:
Tire Air pressure and Condition
Front End & Steering Components
Exhaust System
Visual Inspection of Disc Brakes
Belts & Hoses
CV Axles & Boots
All fluids are checked and filled.  Some fluids used have an additional charge.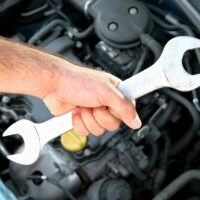 Synthetic Blend Oil Change
Includes up to five quarts of synthetic blend oil and a standard priced oil filter
$49.95
+ disposal fee & taxes
Full Synthetic Oil Change
Includes up to five quarts of synthetic oil and a standard priced oil filter
$74.95
+ disposal fee & taxes